John Minihan
Small Business Advice Board Member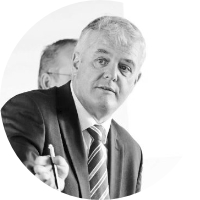 John Minihan a senior Manager with extensive experience in both the public and private sector. After a 21-year career as an Officer in the Defence Forces, he retired in 1996 to run the family pharmacy Business which he still owns.  In 1999, he entered local politics and was elected to Cork City Council, representing the Progressive Democrats. He was also elected National Party Chairman, serving a four-year term and was a member of Seanad Eireann from 2002 to 2007 and served on the Joint Oireachtas Committee on Education and Science.
After politics, he held senior management posts in the healthcare sector, working with both the European Care Group and Bentley Healthcare.
In 2014 John was Appointed Chairman of White Paper Advisory Group on Defence Policy by Minister Defence. He also acts as an EU Expert-Evaluator and Consensus Meeting Rapporteur for Horizon 2020 programmes and sits on the EU Ethics-Expert appraisal panel.