February 6, 2018
Posted by:

Wendy Good

Category:

Business plans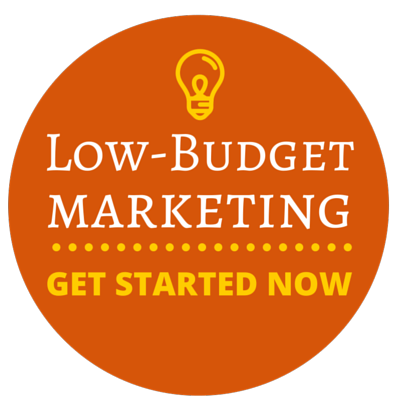 Every business needs marketing – but the excuses just keep coming.
"I have no time," "I don't know what to do," "It costs money," "I don't need to market," etc. Sound familiar? However, the excuse you hear most often is how "expensive" marketing is.
Truth is, there are many ways to market your business for little or no cost.
Let's begin your marketing transformation.
Start a Website or Blog
Although you might think that you need to hire a professional web design company to develop a website or a blog for your business, this isn't the case.
If your business has been around a while, or if you want a tailored look and special features such as an eCommerce platform, you will need to hire a professional company.
But if you are on a tight budget, you can probably do it on your own. There are free platforms out there that you can use to create an attractive, fully-functional site without paying a cent! For example, you can get a totally free, high performing blog from WordPress.
You will have to pay for a domain and Web hosting, but you can find these things for about €5 a month.
Get Active on Social Media
Don't isolate yourself. Get out there and be social with your marketing!
If you haven't used social media (Twitter, Facebook, Instagram, Pinterest, Snapchat etc) to promote your business yet, you are missing on an opportunity to potentially have your company or its products go viral.
'Viral' refers to a marketing campaign that takes off through massive sharing among social accounts or email.
Hundreds of millions of people use social media sites on a daily basis, and the chances are that you use them too for personal reasons.
Although you might have seen advertisements for pricey social media marketing campaigns and social media tools, you don't need any of these things to get started to promote your business. You can sign up for business pages on LinkedIn, Google+, Twitter, Facebook and Pinterest for free.
By creating complete business profiles and pages, working to gain followers by regularly posting interesting and informative content is a great way to make your business more well-known and to keep your audience base satisfied.
It may not necessarily lead to more sales or leads directly. But it is great for marketing, public relations and brand awareness.
Get Added to Internet Directories
There are loads of highly reputable website and business directories out there, and you need to make sure that your business is listed on them. For example, Yahoo and Google offer these listings, as do Yelp, TripAdvisor, etc.
The listings are mostly free and you might be surprised by their marketing value.
Many of these sites have top search engine rankings. So, people looking for your business will find these links quickly because they end up on the first page of search results.
You can also gain traffic and potential customers from those who are viewing these sites looking for businesses that are similar to yours.
Marketing yourself to online communities
No matter what your business or industry niche might be, chances are good that there are plenty of related online communities out there that you can check out.
From forums to social media groups and more, these communities can provide you with many great opportunities to promote your business.
When interacting with others on these sites, it is important that you contribute useful information and not promote your business overtly. But in the process of doing so, you can post a link to your website and say with which business you are associated.
This can help you gather up a nice network of connections and establish you as a local expert in your field.
Email and Forum Signatures
Effective marketing is composed of many elements. Build it piece by piece.
Whether you're posting on forums or sending an email to your granny, you should always keep your website's URL and your company's contact information in your email signature.
It's free and easy to do, but that doesn't mean it isn't a powerful tool. It can spread awareness about your business and help people connect your name with the company.
Press Releases
There are websites out there that allow you to submit press releases at no cost. So, you should consider utilising these resources when you have some marketing news to share about your business. It doesn't have to be earth-shattering news, but it should be news.
By submitting a press release, you expand your reach and let more people know about what your company has to offer. You might possibly reach an interested journalist who will then contact you for a story.
But why wait? Find out who the newspaper and radio business editors are – and email them! Then, follow up with a phone call and ask if they have any questions. A well-written and informative press release, ideally with a picture, is a gift to anyone facing a deadline.
You'd be amazed what small story can get decent coverage if presented in the right way. Free marketing!
Ask for Reviews
Review sites make it easy for people to rate their experiences with your business. By asking your valued customers to leave feedback on these sites, you can help spread awareness about your business and get valuable feedback from your client base at the same time.
Plus, you might be surprised by the number of people who use these sites. Positive reviews can help encourage users to give your business a try, rather than checking out what your competitors have to offer.
Guest Blogging
If you have friends in a similar industry as your own, you can always ask to submit a blog post for their websites.
When writing, make sure that you don't make it sound too sales-like. Instead, focus on providing some information or tips of substance and value. But ensure you do have a blurb at the end about yourself and your business with a link back to your site.
Marketing basics – share pictures and videos
Sites like Instagram and YouTube are very popular, and you can become a member without spending a cent.
Once you have set up an account and a profile, you upload your videos and photos and take it from there. You start to interact with other users to spread awareness and drum up business.
For example, your videos can tell people about your business. Or you can focus on education-style videos that will teach people more about your industry or type of product.
Blog Comments
Checking out blogs that are related to your industry segment can be a lot of fun. Not only is it entertaining, but it can help you network and spread the word about your own business.
Sharing helpful, insightful comments are a great way to become a part of the conversation on a blog. It shows to others you are an expert in your industry.
Don't just leave a quick comment and a link to your site. That's bad form and just spam. Make sure that you provide some sort of value to the community and the conversation.
Offer deals or giveaways
People love free stuff. So, offering a good deal – or a giveaway – on your website or social media business page is a great way to get more interest and business. You don't have to offer anything big. Often, a small item will do the trick.
These can be something like a discount code or free shipping. But the business this generates can be great and people often share the good news with their friends.
Network
It's always a good idea to have friends and connections in your business niche – online and in the real world.
Join the local business and network groups, attend breakfast meetings and briefings. Don't bring a stack of cards and hand them out randomly, as you work the room. It's insincere and off-putting.
In reality, you're more likely to get stuck talking to two or three people for ages; but they might be the very people to recommend you the next day. Why? Because you were engaging and gave so much of your time to them.
Quality, not quantity, when networking!
Loyalty or referral scheme
Reward your loyal customers for sharing the news about your business with their friends and associates.
There are free online programmes out there that you can use to keep track of these, if required.
You only have to offer a small percentage of your sales or a set cash amount to those who refer customers to your business.
How do you interact with prospects?
Review how your prospects and customers are dealt with by staff for improvements you can make:
How are people greeted by you and your staff when they call in?
When someone sends an email, how fast do they get a response? Is it the kind of email you would like to receive?
When you call to reach someone and leave a voicemail, will the message entice the recipient to call you back as soon as possible?
These improvements to your sales line are not only inexpensive for you to implement, they are a necessity because you are losing sales if they are wrong.
Publish an information pack
You should put together an information pack on your business or products that someone can download from your website. It can be as simple as a PDF document.
The key is to leave some information off your site and offer it only through the info pack. That way the prospect will have to reach out to you – by online form, email or phone – to get a copy.
Just ensure the information is valuable and worth the download.
Small Business Advice
Small Business Advice is a free and confidential advice service offered by Ireland's business community to help businesses grow. 1,250 small businesses have benefited from the Small Business Advice Programme.
For more information call 021 421 1433 or Apply Online today